Below is copied the statutory declaration of my father (now deceased). It was handed to Deputy District Judge Baird at the first hearing of case NE401650 at the Newcastle County Court. A copy of it was also handed to Mr Kevin Kerrigan then representing Shirley Carr. It like my own statutory declaration had not in error been stamped by the court as an exhibit. Both this and my own statutory declarations are known now not to have been included in the judges bundles ready for trial when Shirley Carr had illegally prepared them. Carr was not in a position to register the land subject of dispute under case NE401650 on the 12th of July 1994. It needed twelve years undisturbed possession of it or separate terms other person to make up the 12 year period required by the Limitations Act 1925. There was no way whatsoever she could have done that. My parents owned No. 16 The Lyons, Hetton-le-Hole, Tyne-Wear from April 1949 until the 10th of December 1982. Carr purchased No. 16 The Lyons on the 26th of August 1988. On the 15th of February 1994 I fenced off the land subject of case NE401650. In March of 1994 Carr claimed that I was trespasser on it and commenced proceedings against me for it. She then registered the land under a possessory title on the 12th of July 1984 clearly by unlawful means. She could not in that event have claimed a 12 year possessory title. By that time both myself and my father had long since fulfilled the requirements of the Limitation Act period of 12 years to obtain title to the land. However if Carr had unlawfully used my or my fathers statutory declarations, or any of them provided as evidence of our title, only then could Carr have been allowed to register the land at HM Durham District Land Registry under a possessory title. Those statutory declarations that had not been stamped in error as court exhibits were missing from the judges bundles. It seems as if other affidavits sworn by others that were used as the basis of my and my fathers title had also been omitted deliberately from the judges bundles illegally prepared by Carr. When I fenced off our land subject of case NE401650 on the 15th of February 1994 with his full agreement, then that stopped the running of time against us. Carr could not have lawfully claimed title to the land from the period from the 15th of February 1994 to the 12th of July 1994. The amount of fraud that Carr has been allowed to use against me, and my father, now deceased, is nothing short of astonishing. It serves as further proof that there has been a conspiracy used against us and that was most likely to be a Masonic conspiracy for my having taken part in the Nolan Enquiry into Freemasonry within the police and judiciary.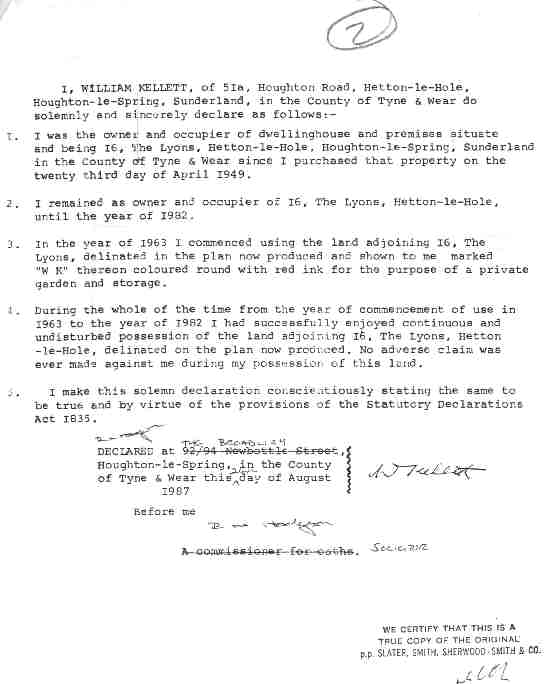 Go to statutory declaration of Maurice Kellett
Go to a letter written in the hand of the Durham District Land Registrar solicitor on the 6th of December 2002.