The letter copied below is proof that Northumbria Police are not investigating my allegations/complaints made against its Chief Constable Mr C. Strachan and officers under his control. I can only presume that the two incidences referred to below relate to an unlawful arrest carried out against me in March of 1999. These are only part of the full list of complaints/allegations that I have made against Northumbria Police which were repeated to acting detective Steven Coxon at the office of my solicitor Mr Hughes on June 30 1999. Inspector Coxon is shown in fact to have been acting. Neglect of duty by any police officer makes it a criminal offence under a ruling made in the case Regina -v- Dytham. The subject of that ruling was also a police officer who was found guilty of deliberate neglect of duty. In fact anyone holding public office who deliberately fails to carry out the duty required of him or her becomes guilty of the crime of misconduct in public office. That crime is not well known to members of the general public. I have no knowledge whatsoever of the identity of the senior officer referred to in the letter below.
The matter of the alleged investigation being carried out by acting detective Inspector Steven Coxon is now shown to have been nothing short of delaying action to allow events to overtake me. It is very clear the Masonic Mafia have had a hand in it. In the matter of the statement that my complaints are closely related to judicial proceedings against me is without any foundation whatsoever. The unlawful arrest of me in March of 1999 has nothing whatsoever to do with any judicial proceedings against me nor were there any such links in the statements/allegations that I made to DI Coxon on June 30 1999. After the unlawful arrest carried out against me in March of 1999 I was also denied the right of someone being informed of where I had been taken and detained along with my rights of access to a doctor and solicitor. Two police officers involved in that matter have already committed perjury in statements they have made concerning it. Later I was dumped outside of Sunderland Royal Hospital after a doctor had told police at Washington to take me to the nearest hospital. When the custody sergeant had seen that I was seriously ill he had telephoned for that doctor who there and then issued his instruction after I had detailed to him my pain along with the medication I take. Very recent events concerning police acts against me show that they have no concern for the care and welfare of those subject of their custody. Latest: The Police Complaints Authority have agreed that my arrest and continual detainment by Northumbria Police was unlawful. It was only because of documentary evidence that this was proved as fact. The facts surrounding my arrest and the perjury used by police officers remains to be proved. I can say with absolute honesty that I am sure now that I know why so many people die while in police custody. The numbers of them are also increasing and its obvious why this is happening.
I was also arrested by Durham police after a doctor had lied in an allegation he had made about me. Freemasonry was involved in this matter. He practised at the West Rainton Surgery and will be named in due course. Another doctor living near Pateley Bridge, who agreed that he was bi-sexual had been in contact with the West Rainton Surgery doctor. In due course, this matter will be pursued before the appropriate authorities. On February 1, 2000 police constable PC Davison arrested me at Durham City. That was under the false allegations of the doctor at the West Rainton Surgery. For three hours I had requested a doctor attend to me as I felt very unwell. PC Davison told me that they were going to search my home and wanted to know where the key to it was. The threat was that if I had not given access to that key I was told that they would break down the door to my home. PC Davison spent around two hours with the search and then returned to Durham Police Station. Solictor CD Hughes of Harding Swinburne Jackson & Co of Frederick Street Sunderland, also went into my home. He had no authority to allow him to do that. The statement that I made tp PC Divison regarding the allegation made against me was not written down by him. Solicitor CD Hughes much later claimed that he had been with me when I had been arrested. In fact he was not. That was the start of my suspicions about him starting to be confirmed.
On PC Davison's arrival back to the police station an ambulance arrived shortly afterwards. I had not been seen by a doctor as I had requested. I was eventually taken to Dryburn Hospital at Durham in a collapsed state. There I was placed on life support equipment. After becoming aware of another impending unlawful act that was about to be carried out against me there, I discharged myself from the cardiac care ward of the hospital at very short notice. I was told that I could not do that. Nurses confirmed that there was evidence showing that I had a serious further health problem and that by discharging myself I was placing my life at risk. My life was already at risk from the Masonic Mafia who either rule or influence just about every sphere of authority in the UK justice system.
I was away from my home for around a week after this incident. On my arrival back I found a large amount of documents missing from my home. Those documents related to correspondence from other victims of the justice system. Then I returned to PC Davison at Durham Police Station. With me was solicitor CD Hughes of Harding Swinburne Jackson & Co of Frederick Steet, Sunderland. The allegation under which I had been arrested by PC Davison was that I had sent a letter to the doctor at the West Rainton Surgery allegedly containing a threat to the doctor. The other allegation was that I had telephoned the doctor and had threatened him. Both allegations were absolutely untrue.
During the interview with PC Davison he told me that the phone call that I had allegedly made to the doctor had been recorded. Then I told Davison that examination of that recording, if indeed the incident had happened, would verify that it had not been me. He told me that the recording had been erased. I told him that situation was extremely convenient in the circumstances. I had never met PC Davison before so if he did hear such alleged recording he could not in any event claim that it had been made by me. The other false allegation made by the West Rainton Surgery doctor was that I had written a letter to him containing a threat. I knew that I had not done that so also knew that this matter could easily be confirmed to be a lie. Then PC Davison told me that he had never seen the letter where I was alleged to have made a threat against the doctor. I had wrote a letter to the doctor but it concerned my former wife having gone onto hormone replacement therapy and whether they had advised her to tell me that she was undergoing that treatment. In fact she had not told me she was receiving that treatment. A leaflet that I found on that medication wrote that psychological changes in the person receiving that treatment would be a side affect of it. I found that long after my wife had left our home. In the circumstances I had raised with the West Rainton Surgery a valid question which might have concerned other patients. I had a copy of the letter that I sent to the doctor. I also placed my signature on a document allowing PC Davison access to the letter where I had been falsely alleged to have made a threat. A police officer can arrest a person on reasonable suspicion that a crime has been committed by them. In the circumstances detailed above, PC Davison could not have had reasonable suspicion that I had committed a crime relative to the doctor. Therefore his arrest of me was also unlawful. Shortly after that I returned to Durham Police Station. When I arrived there a police officer told me that I should have received a letter from Durham Constabulary stating that no action was to be taken on the matter. I had received no such letter.
When I raised the matter of the missing documents from my home following PC Davison's search of it, the Police Complaints Authority wrote to me that the search record of my home had been lost. I am also aware that the law required that I see any search authority for my home. I never saw any such authority. To say that the whole affair stank to high heaven is an understatement. I feel that I must add that I am also aware that there is very significant membership of Freemasonry amongst the medical profession.
Solicitor Michael Fisher who represented the "Guildford Four" stated in a national radio broadcast that the London Court of Appeal was "perceived to be riddled with masons". The evidence to show that statement has a firm foundation is very substantial. For years Lord Woolf has been taking part in "Secret Briefings" there against all litigants in person. That considered to be in gross violation of the principles of justice and the European Human Rights Convention.
Northumbria Police have been provided with substantial evidence that my civil opponent of five years, Miss Shirley Carr, employed as a National Insurance Inspector, used substantial material perjury during the civil proceedings between us. Some of the evidence of that crime is published on this site. As is their usual practice no action has been taken on it. The fact that Northumbria Police is known to have substantial membership of Freemasonry amongst its ranks has to be very significant to what has been done to me. What makes it worse for me is that at the time I contributed to the House of Commons Home Affairs Select Committee enquiry into Freemasonry within the Police and Judiciary, I had no knowledge then that the outcome of that Enquiry was to cover up Masonic involvement within these authorities. I and others who took part in that Enquiry believe that it had been deliberately designed to cover up Masonic influence within the named authorities. I had been in touch with Lord Nolan who chaired the Enquiry up until January 1998. Then he wrote to me that he was returning to being a member of the Law Lords and from then on had to remain impartial. It is strange because I was never made aware that he had been partial to the matters in the first instance?
There is a huge amount of other crime that has been allowed against me and clearly sanctioned by Northumbria Police. It is included in my book, " The Other Government".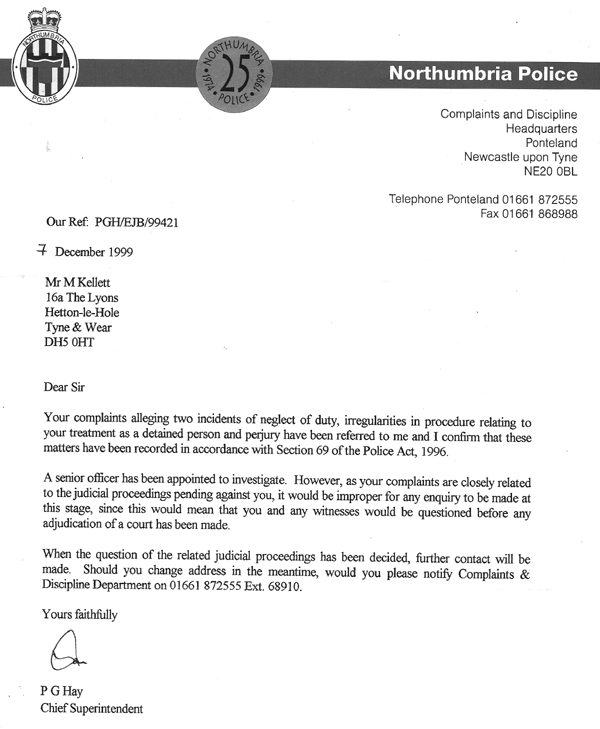 Below is copied the latest letter which I have received from the Northumbria Police Authority. My complaint/allegations to the Authority were submitted under Section 86 of the Police and Criminal Evidence Act 1984. They concern allegations which come within the ruling of criminal acts made under the case Regina -v- Dytham referenced above. The Authority have already agreed that my complaints also relate to the mason Chief Constable of Northumbria, Mr C. Strachan.
It will be seen that the Northumbria Police Authority say below that the investigation into my allegations I made against police officers continues. The above letter confirms that such alleged investigations have never even started. Who is telling the truth? One or the other or even both is not.